Case Study |
The risk of using second-hand or used anchors should be understood by unsuspecting end users and operators.
Since 2010 there has been many mega projects involving the use of large drag embedment anchors in Australia. These projects have finished and as most of the anchors were for temporary operations, they have been flooding the market now for years.
The available anchors are old and are in a range of conditions. They have not been inspected, assessed or tested for years. It is imperative that these anchors are inspected before use and if possible, their origins traced. Most of the available anchors are drag embedment type anchors and are available in as is condition.
Traceability marks linking the fabrication and welding assurances traceable to the original manufacturer's certificates are mostly gone. Therefore, understanding the as presented maker and type can be quite confusing to the novice or end user. This is not to say the anchors are not adequate when installed correctly or will not serve a useful second-hand life. They are typically incredibly strong and robust by design and construction however the traceability and assurances are often lost and therefore the maker can be misrepresented with ease.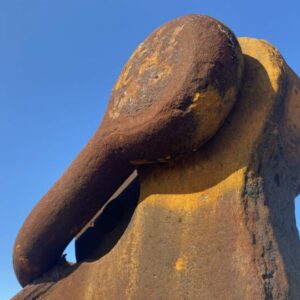 The gold standard for drag embedment anchors are Vryhof and Bruce types. It is safe to assume that if an anchor is presented for sale as either, then appropriate markings or certification should be forth coming to support the associated premium price. Contact the manufacturers if you have any doubt about the voracity and location of markings.
Also understand that certification, if provided, should reference appropriate classification society rules that cover the materials welding, proof loading and pad eye testing of all shackle connections. It is not uncommon to see class certificates covering only testing of the main shackle connection and not the global strength of the anchor as tested against a hard back. Often, thickness testing will show adequate remaining steel however the remaining weld quality and the certification justifying the shackle strength can be problematic.
Historically at ONA Marine we have noted the following issues with second hand drag embedment anchors on the market.
Retrofitted (aftermarket) shackle and pin arrangements.
Inaccessible corroded securing pins inaccessible.
Seized fluke adjustment arrangements.
Retrofitted holes and pad eyes (non-rated and tested).
Dislocated securing pins.
No certification whatsoever.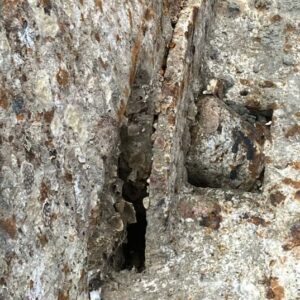 Shown above is an drag embedment anchor whereby the pin securing to flukes to the shank. The anchor had been in the water only 18 months and was lifted over the working deck!
ONA Marine provide quality mooring asset support services to minimise cost and maximise return on marine investments to forward thinking vessel owners/operators, government and corporations looking for a competitive advantage using asset lifecycle management to reduce maintenance costs, improve asset performance, enhance decision making, and extend useful life. Our team of marine asset managers support mooring lifecycle considerations including RPEQ sign off and design approval. To arrange an inspection or support please feel free to call us.
This article is written by Mike Priestly of ONA Marine and is based on our experience and endeavors. Feel free to contact me for clarification if you believe any statements are erroneous or misunderstood. The article is not engineering advice, simply information to enable more informed decisions when it comes to identifying opportunities to do better.