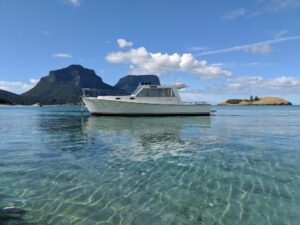 A tourist operator on Lord Hose Island recently called on ONA Marine expertise in the mooring field to design of a new mooring at Lord Howe Island. This work was on the back of previous work by ONA Marine supporting NSW Marine Rescue with a more complicated mooring scope.
The new mooring to suit a 11m tourist boat in the pristine Lagoon for local Company "Sea Lord Howe" https://lordhoweisland.info/experiences/tours/sea-lord-howe/.
The island moorings are managed by the Lord Howe Island Board and the engineer approved mooring design was required before installation. The moorings made full re-use of existing materials on the island in close alignment with the operator's operational philosophy. ONA are proud to have supported Sea Lord Howe in providing such a wonderful experience for tourists visiting the island in a sustainable and environmentally manner.
We at ONA Marine look forward to visiting the pristine marine environment on the island in the near future and exploring the offerings.